Editshare存储
The XStream storage product family includes:
XStream EFS 450: award-winning distributed, fault-tolerant "scale out" storage system that offers enterprise-class storage capabilities and collaboration features to a broad range of production and broadcast facilities – at unbeatable price points. Configurations can range from under 100TB all the way up to 5 PB's.
XStream EFS 300: Ultra-fast Enterprise scale-out storage for high-end post production. Start small and expand up to 5PB's inline with your production and business requirements.
XStream EFS 200: high-performance scale-out shared storage for small and emerging media facilities. Resilient EFS storage that can be easily and cost-effectively expanded up to 960TB.
XStream EFS SSD: high-bandwidth, SSD shared storage that meets the demands of high-resolution 4K/UHD, VFX, DI and Finishing environments.
XStream EFS Field 2: high-performance portable shared storage that is ideal for instant in-the-field collaboration or office environments that require media and project sharing in a small, quiet box.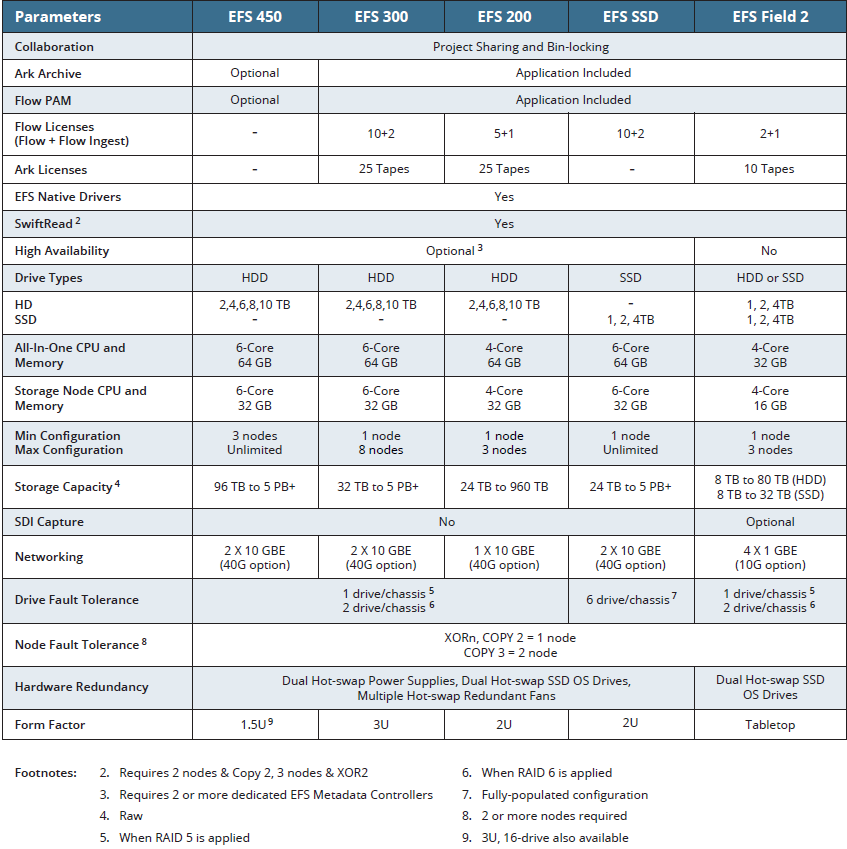 The EFS advantage
The EditShare File System (EFS) is uniquely tailored for media and production environments delivering accelerated performance and reliability benefits across the EFS storage range:
Single namespace eliminating management of multiple storage volumes
Distributed file system and hardware redundancy ensure the highest level of data protection
EFS Native Client direct connectivity delivering increased performance
Intelligent

SwiftRead

system protocol managing data access contention
Combine HDD-based EFS servers with the EFS SSD server for versatile storage clusters with easily configured media spaces
Choice of file protection mechanisms to suit content value and cost
Tremendous scalability with data automatically redistributed with no downtime


Intelligent media management

XStream shared storage is much more than just a place to put your media and project files. Every XStream system integrates with Flow, our complete production media asset management (PAM) system for file-ingest, scanning, logging, cataloguing, and searching your media, stills, graphics, and documents. Straight out of the box Flow allows you to manage the most complex production with the ability to automate intensive workflow tasks and allow remote access to media. To ensure that your online media is safe you can also use Ark with additional nearline disk and LTO tape for integrated backup and archiving.
Extensive collaboration tools
When you store your NLE projects on XStream storage, multiple editors will be able to work in the same projects simultaneously. That means they can safely open up each other's bins and sequences and edit as a team with one editor building on the work of another. While unlimited editors can get read-only access to bins and other metadata files, EditShare makes sure only one editor at a time gets write access. We do this not only for Avid Media Composer but also for Apple Final Cut Pro, Adobe Premiere Pro, Grass Valley EDIUS, and for our own Lightworks. Collaboration doesn't stop at NLE's and finishing tools, with Flow you can bring hundreds of non-editors into the production chain too.

Scalability – systems that grow with your business
Any storage investment must be cost-effective at purchase while providing for future growth and performance. It needs to expand with your business demands and deliver extra performance as you need it. With XStream systems you can expand in two ways – add more storage to a single server OR you can add additional servers to your network.