DFT胶片扫描仪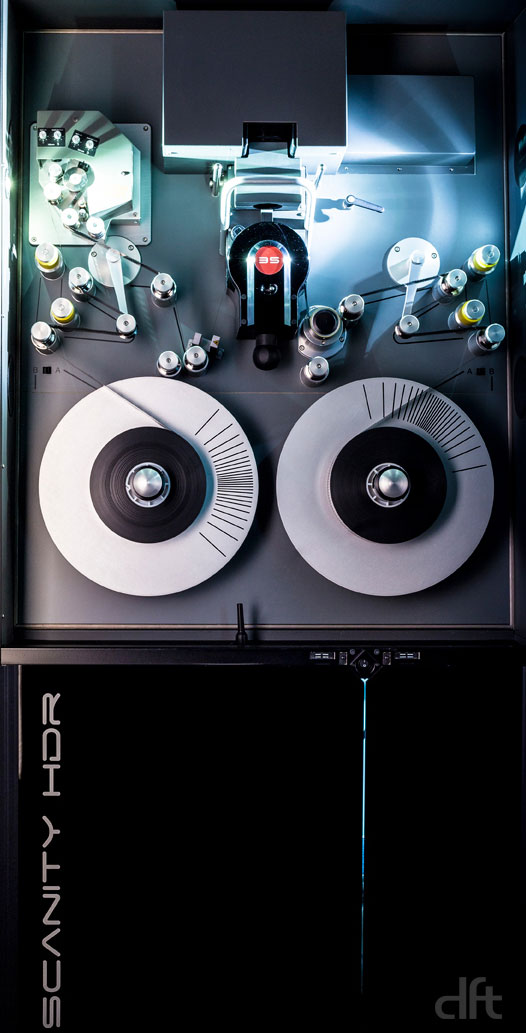 Scanity  HDR
Scanity is a versatile, high speed, film scanning solution, suitable for dailies, feature film mastering, EDL/conform scanning, low resolution browsing, archive and restoration, short-form commercials, as well as digital intermediate scanning.
Scanity HDR has been developed specifically for archive and restoration facilities to manage a range of difficult and historically-aged film issues. It facilitates the ingest of difficult dense black and white materials at real-time speeds using a unique triple-exposure technology – which means that instead of slowing down, the speed remains constant, creating significant time and cost benefits and allowing access to previously unseen details from the high and lowlights of the film at extraordinary speeds.
DFT's new state-of-the-art film scanner Scanity HDR excels in the uncompromising ability to handle a range of difficult and historically-aged film issues.
Scanity HDR uses highly efficient LED (RGB, IR) light sources and hence low temperature, dedicated hardware processors and fewer, less expensive third-party components. This lowers initial costs as well as on-going operational expenses.
Scanity HDR is able to solve a number of key issues that are prevalent when scanning damaged and aged film stock.
high dynamic range film scanner
A multitude of exceptional
and first – to – market
features provide Scanity
HDR users with cutting-
edge technology that
addresses the challenges
many archives and facilities
are facing today. Scanity
HDR significantly improves
ROI, enhances productivity,
works effectively in
datacentric workflows
and provides a fast and
effective solution that
reproduces the pristine
quality that film warrants.
Scanity HDR serves a
variety of film scanning
applications including,
film archive scanning for
mass digitisation, EDL
conform scanning, short-
form commercials, digital
intermediate and new
formats like 4K UHD.
Real time 2K and 4K data scanning from 35mm, 16mm & 8mm Films
4K ultra HD ready
High dynamic range

Exceptional, versatile and  safe film handling

Enhances productivity and workflow efficiency

Optional wet-gate technology

Shrinkage compensation  up to 5%

Handling of irregular  warped or twisted film using contactless scan processing

Simultaneous audio  ingest via COM-OPTICAL or COM-MAG option
Audio  scanning
Scanity HDR provides an audio scanning option facilitating the ingest of analogue optical mono or stereo sound tracks from  16mm or 35 mm print  and magnetic tracks on 16 mm film. This feature  eliminates additional and  separate image and audio  scanning passes. The audio  option uses components  from SONDOR and is mounted into Scanity  HDR before the lens gate
assembly.
The capstan – driven  continuous film transport  offers real-time audio scanning in conjunction  with real-time 2K film scanning. The soundtrack is picked up by audio heads, converted into
WAV files on the Scanity HDR workstation and  stored with the images.
This means that both  the audio and image files are available for further processing or playout via third-party software systems.